In my life so far, I have never been in the popular crowd. The popular crowd was made up of the kids everyone else wanted to be — they were funny, had good clothes and money to spend. Instead, I was always the smart girl in class, the one that everyone ignored until they needed help with homework or something like that. I was basically invisible and alone. But reading books gave me an escape from my aloneness.
I grew up at the Polo Grounds Community Center in Harlem, New York. My elementary school was in the middle of the housing projects, and everybody who lived there went to school there. Everyone knew each other, but I didn't know anyone. While the other kids were outside playing, running through sprinklers and going to the park, I was inside on my bed, curled up with a book. I had a few friends, but they were out with the others while all I wanted to do was read.
I knew that being alone was not necessarily a bad thing, but sometimes it hurt when I heard other girls laughing in their groups, because I wanted those types of relationships so badly. In a way, being alone hardened my spirits, but the time I spent with my books helped me a lot. Because I loved to read, I read so much more than the other kids. While they were outside playing, I was reading books. It helped me in school and my writing skills became stronger because I knew how other people wrote and could learn from them. My vocabulary improved, and so did my speaking. These things helped me change the way I presented myself. Plus, since I was inside reading, I was not outside getting into trouble like a lot of the kids in my community.
I wanted to be like the characters I read about, too. I didn't want to stay where I was. I wanted more. I want to be like Greg Heffley in Diary of a Wimpy Kid because he is hilarious! I want to be like Melanie Stryder from The Host because she is strong-willed and very confident in herself. I want to be like Cam Jansen from the Cam Jansen series because she is very intuitive. And I will be like them all.
I never deviate from the goals I set for myself. I want to be a lawyer and an entrepreneur and a billionaire before I am 24. I want to write a book that will make people cry and laugh at the same time, like Sarah Dessen does. I want to be an inspiration for the little girls who are the bookworms in their schools.
I didn't have a childhood like the ones in the movies, but I will be the adult of my dreams. No one will ever make me feel like I am not worthy, because as far as I am concerned I am everything that I need to be right now. It took a long time for me to have that sort of security in myself, but McLean from What Happened to Goodbye shows me how. Just like Madeline from the children's book always taught me, if I stick to my dreams then they should come true, and that's exactly what I plan to do.
Daija Spaulding
Girls Club Member at the Polo Grounds Community Center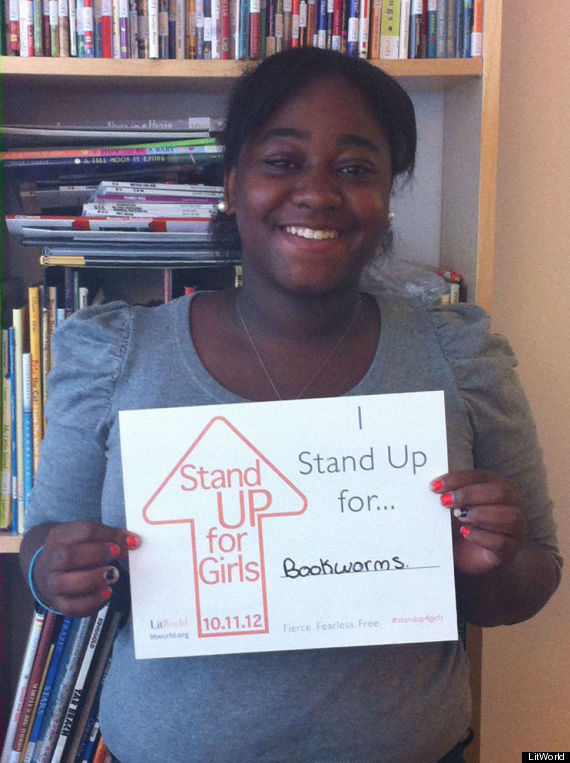 CV is a proud partner with LitWorld's Stand Up for Girls campaign. The campaign advocates for every girl's right to a quality education. By learning to read and write, all girls in the world can protect themselves against poverty, poor health outcomes and lifelong struggle. Literacy is a skill that once learned, is hers forever. Let us stand together to champion the right of all girls to be Fierce, Fearless and Free.
Stand with us on 10.11.12. Visit http://litworld.org/standupforgirls to learn more and join the movement.
This post originally appeared on the Huffington Post and can be read here.